Talent Agent, Business Man and Community Leader a "K.C. Success Story"
---
Article written by Linda Robinson (Syndicated Author, Writer, Reporter)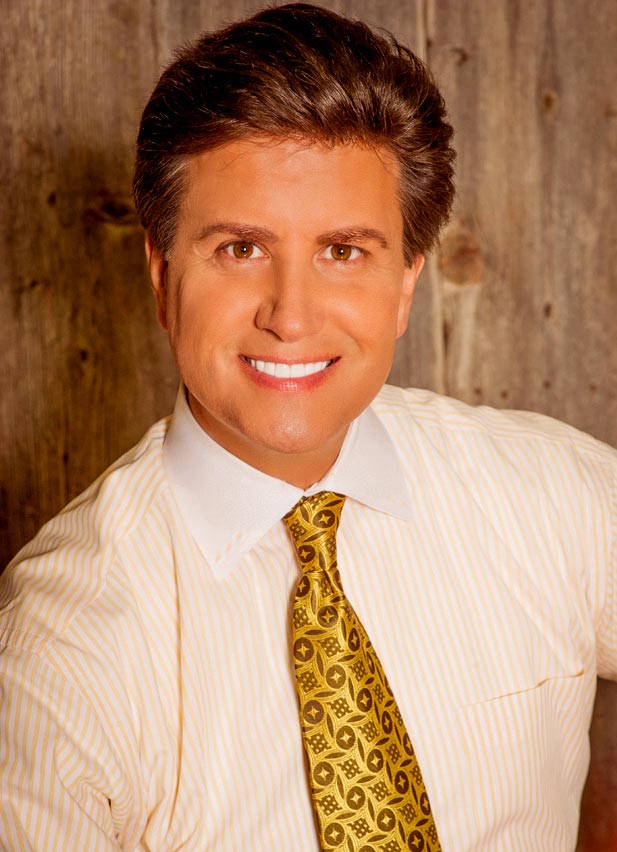 Raymond L. LaPietra
"An Agent that
gets results"
When I first met Raymond L. LaPietra at his office, I was impressed! I noticed the walls of his office were bathed in numerous awards, certificates, achievement plaques, and photos of him with various V.I.P.'s and celebrities. His custom-tailored designer suit, silk tie, and expensive jewelry convinced me that this was a man that was used to success.
Mr. LaPietra cordially took time from his busy schedule to grant me a reporter's interview, apologizing for the intercom pages from his secretary, on a few client phone calls he had to take. I must say, in watching Mr. LaPietra negotiate business deals for his models, he sure made it look easy.
Raymond L. LaPietra started CAREER IMAGES MODEL & TALENT AGENCY, INC. in February of 1982. Beginning with only 12 models, which he represented locally, he now owns and operates one of the largest and most-active Model and Talent Agencies in the United States, representing over 145 models exclusively and even more non-exclusively. Career Images Model & Talent Agency, Inc. provides service and does business with models, talent, and clients in 48 U.S. states and 29 foreign countries.
So how did the name Raymond L. LaPietra and the company CAREER IMAGES hit the big time, and stay there, becoming a name recognized and respected within the modeling industry? Let us look at how this enterprising and unique businessman took his dreams and built them into reality!
CAREER IMAGES, led by a leader filled with inspiration and plenty of business savvy, offered over 50 vivacious and talented models by the end of his first year in business. LaPietra's dream began unfolding when he continued to create a full service agency. He divisionalized his models who specialize in printwork, runway, fashion shows, convention work, promotional work, television and radio commercials, film, etc. CAREER IMAGES has accumulated a client list that reads like a"Who's Who". Such clients are Hallmark, Sprint, Pac Sun, Google, U.S. Army, Microsoft, Mercedes Benz USA, FedEx, L'Oreal, Pillsbury, Proctor & Gamble, USA Products, USA Network, Revlon-Realistic, Sebastian International, British Broadcasting Corporation, J.C. Penney, Wal-Mart, Ford Motor, U.S. Postal Service, Toyota, Sears, Luzier Cosmetics, Mattel Toy Co., Lee Jeans, Time-Warner, HBO, Spike TV, MTV, General Motors, NASCAR, Pepsi, Hy-Vee, Red Bull, Office Depot, Wahl Corps, Axe, Oceans and Worlds of Fun, Burlington Coat Factory, Bass Pro Shops, Target, Sheplers, Radio Shack, Maytag, John Deere, Verizon Wireless, Lee Jeans, and Nike to name some of the many. With the passing of time and continued growth, LaPietra branched out even more to encompass a greater piece of the industry's pie by buying out some of his competition.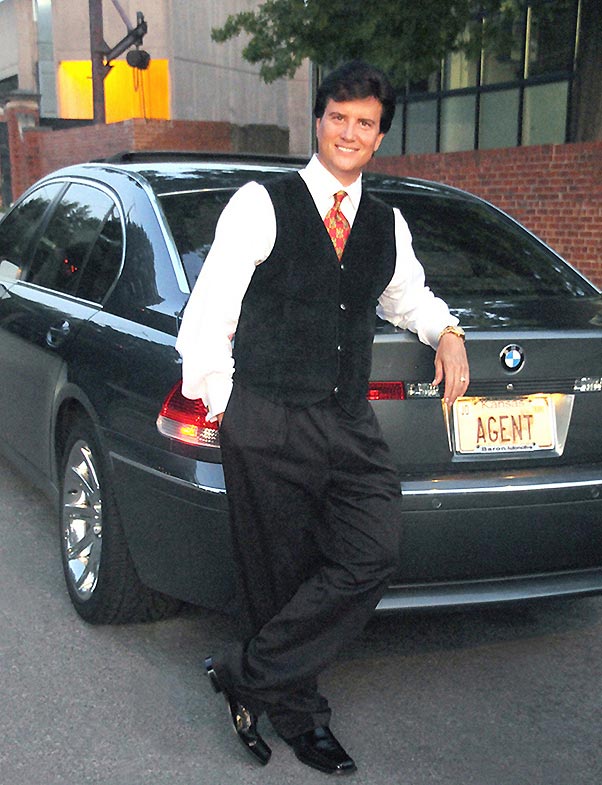 Ray enjoys the good
life as a result of his
many successes.
In 1984, LaPietra sent his first model to Paris, France. This began his gradual climb in sending additional models to other international markets such as Japan, Italy, Germany, etc.
In 1985, LaPietra purchased the Monza Agency, a 25 year old modeling company in Kansas City and then months later he also owned and operated the Nancy Bounds Model Agency (KC Branch). Both of these additions catapulted LaPietra into becoming one of the most sought-after agents in the country. In late 1985 he purchased the rights to the Miss Kansas Venus Beauty Pageant, which he operated successfully for two years. During the year, marketing endeavors began paying off in an even greater way as CAREER IMAGES models could be seen getting parts on national television shows such as Miami Vice, Star Search, Solid Gold, and Dynasty, and in such films as Rocky III and Robo Cop II.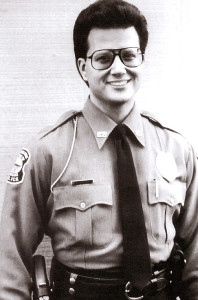 Mr. LaPietra worked as
a state certified Police
Officer from 1990-
1995.
Also, in 1985 Mr. LaPietra was appointed to the International Academy of Fashion & Merchandising Design Board. He remains an alumni member yet today.
In 1986, LaPietra booked numerous actors and actresses in the made-for-television movies, "Murder Ordained" and "Combat High". With business booming at a fast pace, LaPietra's reputation alone became the ticket to a high fashion "Star Cruise", along with 29 other leading international agents. Later that same year LaPietra was praised for his "Going Hollywood" seminar, which he brought to Kansas City. This particular seminar included the casting director from Lorimar Productions. He also brought the "Starmania Talent Search" to Kansas City in 1986 and 1987, which provided booking opportunities and placement for ambitious entertainers wishing to work in Las Vegas, and beyond. From 1986 to 1994, LaPietra became vice-president and partial share holder of Sound Dynamics and On-Locaton Video. Through this alliance, LaPietra developed his skills producing and directing model and music videos, industrial and educational videos.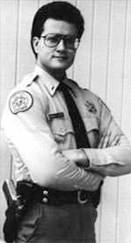 Mr. LaPietra served his
community from 1986-
1991 as a Deputy
Sheriff.
From 1990 to 1992, LaPietra served on the Southwestern Bell Small Business Advisory Panel. This panel represented small businesses within five states, Kansas, Missouri, Oklahoma, Arkansas and Texas. In 1992, LaPietra became one of "Who's Who" in American Society and Business. He went on to continue to be awarded "Who's Who" honors in 1996, 1997, 1998, and 2000. In 1992 LaPietra became part owner of "Expressions Magazine" and later bought out his partners taking full ownership, becoming Editor-in-Chief. "Expressions Magazine"  is a variety magazine featuring businesses and persons of high-achievement, dominantly within the fashion and entertainment industry.
From 1986 to 1991 LaPietra served his community as a county Deputy Sheriff, working part-time evenings and weekends. In 1990, Mr. LaPietra earned his state certification through a second training academy where he became a police officer. He continued to work evenings and weekends from 1990 until May of 1995 when he resigned to spend more time with his wife and family. Mr. LaPietra received numerous law enforcement awards and citations, including an "Officer of The Year" award, for his work in creating, producing, directing, and marketing of the nation-wide video, "Drugs… a Dead-End Road." This video warned teenagers of the horror and consequences of drug abuse. Mr. LaPietra made numerous appearances on local and national television and radio talk shows. As a result of his prison concerts and junior and high school assemblies, this program positively impacted countless people. Enough so, that Mr. LaPietra received recognition from President Reagan and the White House.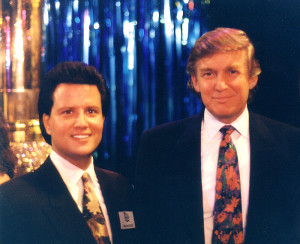 Ray received the "Outstanding
Promoter of the Year" award
from Donald J. Trump
In 1993, LaPietra was one of only five in the world to receive the "Outstanding Promoter Of The Year" award, presented to him by Donald J. Trump at the Trump Castle in Atlantic City, NJ.. In the fall of 1994, LaPietra was appointed to I.M.A.R.E.B., a Regulatory and Ethics Commission that oversees and regulates Modeling Agencies and Schools throughout the United States and Canada. In 1993, as a result of a Mayoral Appointment, Mr. LaPietra was appointed by a city Mayor and became an esteemed member of Leadership Northeast. By serving on this council, Mr. LaPietra was able to make a positive impact on ten of the major cities in Johnson County by working with the politicians in the state capital of Kansas. He remains an alumni member assisting with current projects.
In 1995, 1996 and 1997, Mr. LaPietra received the "State Director Of The Year" award for his service and talents in the North American Scholastic Pageant. In 1997, Mr. LaPietra took a delegation of over one dozen contestants, representing six states, to compete at the Waldorf-Astoria Hotel in New York. Mr. LaPietra proudly watched most of his models walk away with numerous awards as division winners and runner-up finalists. Mr. LaPietra was awarded the "American Dream Promoter of the Year Award" in 1998, 1999, 2000, 2001, 2002, 2003, 2004, 2010, 2011, and in 2012 Mr. LaPietra received a coveted 30-year award. In 1999, Mr. LaPietra received an International Promoter Award from the Malaysian government for his service and skill for providing representatives from the United States in the "Miss Tourism International Pageant."  Likewise Mr. LaPietra also received additional international awards from the Turkish Government, the Mexico Board of Tourism, and the Bahamian Board of Tourism and economic development, for his many services in international business development, commerce, and trade relations. 

Mr. LaPietra worked with Ed McMahon for over a decade. Mr. LaPietra provided numerous models and talent for the television program "Star Search" and enjoyed seeing his talent win in every category, except the Comedy category, which he did not supply. Mr. LaPietra also worked with Ed McMahon by providing various talent for the television competition, "Ed McMahon's Next Big Star". Like Ed McMahon, Mr. LaPietra believes in providing career-elevating opportunities that discover and place new talent, without charging for these opportunities like some within the industry.
In 2003, Raymond LaPietra added yet another agency to his worldwide network when he became the Vice-President and shareholder of Focus One Model Management L.L.C. in upstate New York. By owning yet another agency on the upper east coast, Mr. LaPietra serviced even more of the industry. In early 2004 Mr. LaPietra became Vice-President and shareholder of Ion International Models, Inc., located in Orlando, Florida. By acquiring these two additional agencies Mr. LaPietra acquired a much-larger industry dominance and footprint. Currently, Mr. LaPietra has over 1,000 models, actors, and talent in his active worldwide database. As of 2006, Mr. LaPietra no longer owned shares of stock in Focus One Model Management and Ion International Models, Inc., which allowed more time for Mr. LaPietra's replacement ownership duties with B2 Technology Consultants L.L.C., a website development and hosting corporation, which he co-owned and operated for a couple of years.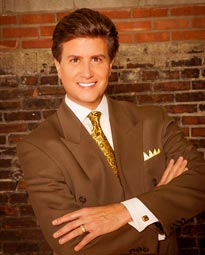 Ray has served the model and talent
industry for over 3 decades
In 2009, Mr. LaPietra earned his certification and is now a state-approved Mediator and Dispute Resolution Specialist, with the Judicial Office of the Kansas Supreme Court. Mr. LaPietra now provides Mediation and Dispute Resolution (ADR) services for corporations and individuals, aiding them on a professional level in resolving both simple and complex disputes and conflicts. Mr. LaPietra is also a trained and certified Negotiator and provides consulting services in business and commerce acquisition, and provides detailed (open, grind and close) services. Mr. LaPietra has a reputation for being one of the best "strategist" and has developed specific and custom techniques and tactics in finalizing national and international, complex, multi-party business deals.
In 2010, Mr. LaPietra was awarded the "President's Call To Service Award" presented to Mr. LaPietra by President Barrack Obama and the President's Council on Service and Civic Participation, for Mr. LaPietra's over 2,000 hours of National Community Service (Dr. Stephen R. Barnhart,  Administrating Presenter).
To relax, LaPietra practices martial arts. He has studied Judo, Karate, Kenpo and Hapkido, holding various degrees and belts. He feels that martial arts offers much more than just physical value by toning both mind and body.
In 2012, Mr. LaPietra was again one of 110 top world agents/managers aboard a Carnival Cruise ship at the Barbizon's "Passport To Discovery", that ported out of Tampa and did excursions in the Grand Cayman Islands and Cozumel. On this floating ship Mr. LaPietra along with so many other top-world-industry professionals, auditioned and cast numerous models, actors, and entertainers and performed call backs that selected the top models and talent for national and international industry placement. Mr. LaPietra has been a premier Talent Scout for Barbizon USA for over 17 years and has done many land-based model conventions for Barbizon USA. Also, in 2012 Mr. LaPietra was the Dean of Judges and a top agent/scout at the International Talent Showcase in Boca Raton, Florida. Likewise at this event, Mr. LaPietra was a top Judge and Agent that auditioned and booked numerous models and talent from this event. One of Mr. LaPietra's top male models; Timothy Joseph won the "Overall Male Division" demonstrating that Career Images Model & Talent Agency does indeed have some of the best models and talent in the industry.
In 2013, Mr. LaPietra was "Dean of Judges" at the American Dream Pageants in Orlando, Florida and while at the Renaissance Sea World Resort, he judged all of the beautiful contestants that competed at this pageant. Mr. LaPietra was also featured in the national American Dream Pageant Magazine and a two-page feature article about Mr. LaPietra reported all that Mr. LaPietra had done and accomplished at this prestigious pageant. Mr. LaPietra signed "Miss Teen Ohio", Victoria McConn from this pageant and now she is part of the active Career Images Model & Talent Agency network. Since then LaPietra has now been appointed as the Chief Executive Director of American Dream Pageants, while still remaining as Dean of Judges and Auditor. Also in 2013, Mr. LaPietra continued to provide his models for the Kansas City Fashion Week mega fashion shows, along with working with so many of the top jewelry and clothing designers in the Midwest.
In January of 2014, Mr. LaPietra became the Host of the "Almost Anything Goes"  Radio Program and was appointed as the Sr. V.P. of Operations and Sponsorship Development, for the PWR Network. The "Almost Anything Goes" radio program is a variety format radio show that discusses a wide array of topics ranging from politics, fashion, film, music, entertainment and social issues. The show also features interviews with celebrities, models, actors, entertainers, and unique and interesting people in every genre. The emphasis of the show centers mainly toward individuals of high-achievement like Mr. LaPietra. Even though this is an international radio network show, there are MP4 videos seen on some of Mr. LaPietra's shows that allow dimensions in both listening and viewing enjoyment. After over nine months of working with the PWR Network Mr. LaPietra left the PWR Network in September of 2014 to free up more time in his schedule for newer and additional pursuits.  In August of 2014, Mr. LaPietra took over as "State Director" for Kansas, Missouri, Oklahoma, Iowa, and Nebraska, for the World's Perfect Pageant/Model Search, appointed to him by the Founder of World's Perfect Pageant. Mr. LaPietra was the "Chairperson of Judges" and a VIP judge at the international finals, judging over 400 contestants, models and actors, at the Florida Hotel & Conference Center in Orlando, Florida. Additionally at this same event, Mr. LaPietra was one of 27 top world agents and agencies who scouted models at the pageant and model search for placement bookings all over the world.
In October of 2014, Mr. LaPietra became a "talent scout", writer and published author for Act Like A Child Magazine. Mr. LaPietra scouts models and actors, nationally for the magazine and places aspiring models and actors in the magazine in both the featured articles and in the "spotlight" section. In October, Mr. LaPietra was pleased to have his oldest son, Timothy Joseph, make the cover of the Act Like A Child Magazine that included a three-page feature article on Timothy's success as an exclusive model for Career Images Model & Talent Agency and his success in forming his own company; Lucre & Co. Timothy is a clothing designer and song writer, in addition to being an active male model. Currently Timothy is a working model in New York earning excellent income as a print, runway and on-camera model.
In January of 2015, Mr. LaPietra became the Sr. Vice-President of Operations and Marketing Administrator for Runway Loud Entertainment, and he was appointed as an esteemed member of the Board of Directors for this organization. Mr. LaPietra provided many models, designers and sponsors for the Runway Loud week of events that culminated in a taped footage for a television (pilot) runway fashion show, featuring models and entertainers and such participating sponsors as Banana Republic, Rue 21, Tanger Factory Outlet, and many others. There were many charity organizations that were serviced in the last year from the Runway Loud network, resources, and efforts. Mr. LaPietra was also part of the negotiating efforts for a television reality series called, "Runway Loud" with the CW Network wherein the Runway Loud brand optioned to become a weekly television reality program. As of 2016, Mr. LaPietra completed his duties and no longer works with Runway Loud and has gone on to additional endeavors.
Also in October of 2015, Mr. LaPietra teamed up and partnered with yet another strategic alliance called; Mastermind Kansas City. Mastermind is an elite organization that assembles the top successful and generous business people, entrepreneurs, self-employed and corporate professionals with high five, six and seven digit incomes. This group of capable individuals are the real movers and shakers who operate at the top of their fields of endeavor. This network of professionals create shared-resource, wealth, and networking opportunities like no other group. For those who are members, they must be approved and vetted and have a reputation and resume delineating high achievements and generosity with others. Also in 2015, Mr. LaPietra was awarded the "President's Lifetime Achievement Award" from President Barrack Obama and the Corporation of National and Community Service, through the U.S. White House, for Mr. LaPietra's over 4,000 hours of dedicated national volunteer and community service. This award was also complimented by Mr. LaPietra receiving the President's Gold Medallion and Service Ribbon. This is the third Presidential Award Mr. LaPietra has received.
In January of 2016, Mr. LaPietra was featured on the cover of "The Comb", a national fashion magazine with over 88,000 subscribers and growing. A two-page article featuring mention of some of Mr. LaPietra's history and achievements was published along with an article, Be A Champion…The POD Difference" was published that was written by Mr. LaPietra. In March of 2016, Mr. LaPietra was also featured on the cover of "Exquisite Connoisseur" magazine. This publication is a national magazine that features fashion, wealth, high society, food, jewelry, clothing, travel, and the good life. Mr. LaPietra has now been added to the annals of other "super-achievers" that have also been included in this notable magazine. In April of 2016, Mr. LaPietra was awarded the "Businessman Of The Year" by the Negro Museum League for his exceptionalism in business, community, charity, society and cultural relations. In January of 2017, Mr. LaPietra was also the Master of Ceremonies and his agency, Career Images, provided most of the models at the "Masquerade Gala" Collaboration Shoot and double fashion show at the historic "Longview Mansion". At this epic event, over 35 select Career Images' models (male and female) did themed photo-shoots with over one dozen of the top fashion photographers in the Midwest, and they proudly walked in double fashion shows for top clothing designers; Nikki Fizer of No Human Intention and Vilma Vanzant Fashions (both clients of Mr. LaPietra and his agency). Other impressive projects that Mr. LaPietra and his agency have done are the "Mobsters, Gangsters and Dames", a 1920′s and 1930′s thematic collaboration shoot done at the historic Elms Resort Hotel & Spa and the "Dreams and Desires" Excursion/Collaboration shoot (an event produced and directed by Career Images Productions) done at the D & D Mansion in Las Vegas in 2017. In February of 2017, Mr. LaPietra was one of only 3 VIP Judges who participated at the 321 Shine Midwest Finals, held at the prestigious Crowne Plaza, and his industry colleagues at this event were representatives from MMG–New York and a top representative from IPOP Model Convention.  In June of 2017, Mr. LaPietra was the "Dean of Judges" and his agency was a "title sponsor" at the Mrs. Missouri/Kansas America Pageant and helped select winning Delegates for the State Finals. Those winners went on the the nationals for the Miss America Pageant. 
Raymond L. LaPietra is a public speaker and is often asked to speak in front of groups to share some of his expertise and insight. He has performed numerous educational seminars and speeches on topics covering time management, goal setting, image consulting, negotiating techniques, and a variety of topics on modeling and entertainment. He is particularly known for his positive attitude and motivational seminars. In these humorous and informative presentations, he reduces success down to simple skills of imagination, belief, and action. As Mr. LaPietra puts it, "It is not enough to say, I CAN, rather he asserts that a person must say, I WILL."  It is easy for others to feel inspired by what Mr. LaPietra shares in these seminars, considering all that he has accomplished in his life. Mr. LaPietra has a Bachelor of Science Degree in Criminal Justice Administration (EED) and holds an Honorary Doctorate Degree in Business Management. Mr. LaPietra is a business consultant and lifestyle coach, a published author and philanthropist. Mr. LaPietra is currently writing two books; "3122 Greeley and beyond (a book that talks about his journey from a childhood of poverty and abuse to triumph and success) and the second book; "A Few Things I have Learned Along The Way (an intriguing book with interesting and funny stories on what it is like to be a top model agent and manager in the competitive world of modeling, entertainment and fashion). At the end of my interview with Mr. LaPietra I felt so inspired and fulfilled. After speaking with and listening to Mr. LaPietra I knew that I had been in the presence of "Royalty" and had met with one of the most elite and powerful people in the modeling and entertainment industry. In dealing with Mr. LaPietra I found it to not be just an occurrence but more like an "experience". I am forever changed after having dealt with this unique and impressive man.
The sky's the limit and Raymond L. LaPietra is going to keep on reaching for those stars! When asked what he considers to be the secret to all of his success he simply replied, "I have achieved what I wanted in life by merely helping others achieve what they want. A person can accomplish anything they can imagine, if they will remember to make their goals big enough to allow for the other people they come in contact with. There is no better way nor any finer blueprint for success, than to share in a Christian way with others, the gifts, talents, and resources we possess!"